The British and Irish Lions series with South Africa could be held in the UK and Ireland if Covid-19 prevents fans from travelling.
That is among the contingency plans discussed by the Lions board in the event the trip has to be abandoned.
Instead, games would be played in Edinburgh, London, Cardiff, and Dublin.
The South African rugby union has previously made it clear that a tour without visiting fans would not be commercially viable for them.
The Lions board is also thought to be unenthusiastic about the Idea.
However, it is hoped that a vaccine would allow for fans to attend games in the UK by summer.
In a statement on Saturday the Lions board announced that they had been having "repeated meetings to discuss all scenarios available and is in constant dialogue".
A warm-up contest with Japan is already scheduled for Murrayfield in Edinburgh on 26 June.
After that, the original plan is for the Lions to travel to South Africa to play five provincial games before the three-Test series against the world champions.
The revised plan would likely see the Test matches held at Cardiff's Principality Stadium and Wembley and Twickenham in London.
Government restrictions currently forbid fans from attending, but even if restrictions are lifted, the Lions board is worried that such a large movement of people could put any Covid-19 recovery in jeopardy.
It had been mooted that the tour might be delayed until 2022, but all four nations have Test matches scheduled for that summer window and are not keen on that switch.
Lions managing director Ben Calveley said: "It will meet throughout January and into February, if required, to review all relevant information and data.
"After further consultation with SA Rugby, we will update on the outcome of these meetings in due course."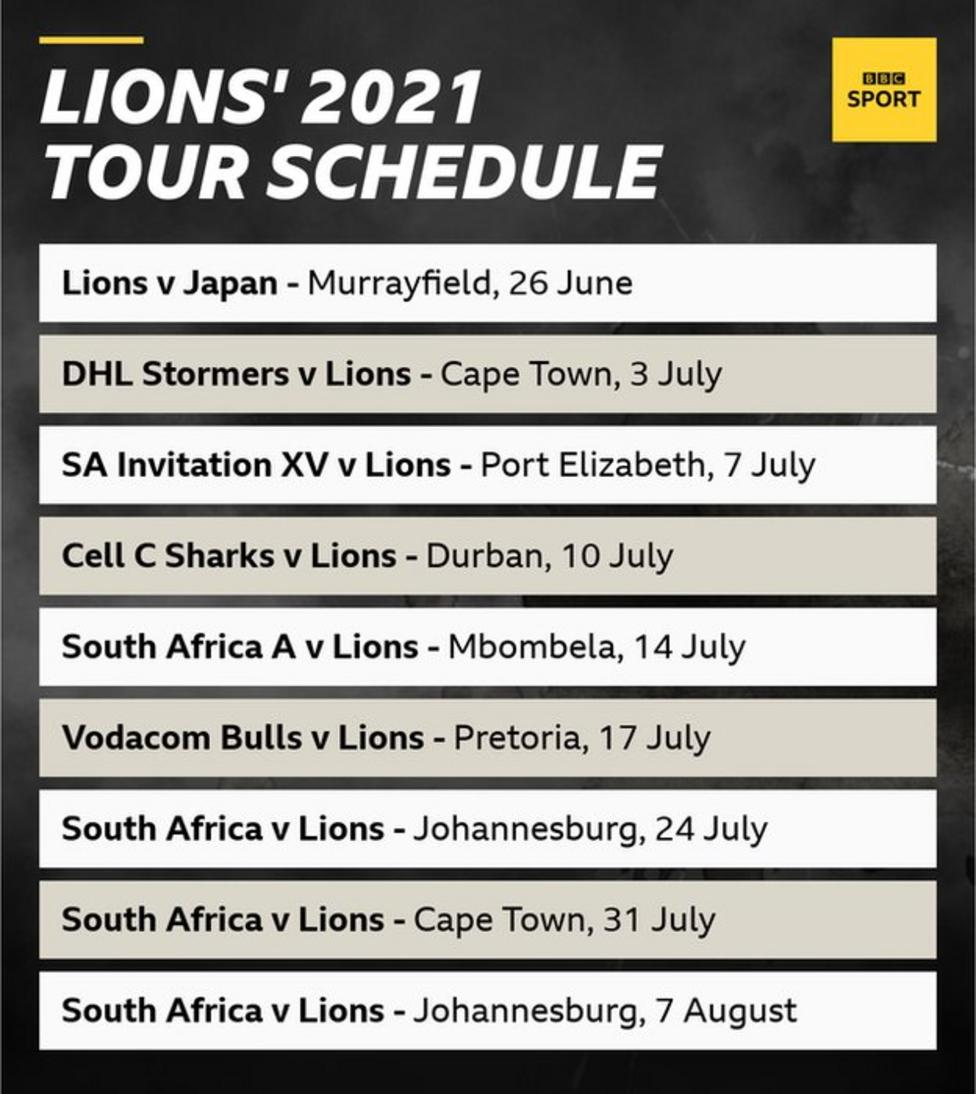 The case to play in Britain & Ireland
Former Lions tourist Ugo Monye on BBC Radio 5 Live's Rugby Union Weekly podcast
Imagine Old Trafford, St James' Park, Wembley Stadium, Millennium Stadium, Murrayfield – for me that would be unbelievable.
But we don't have the certainty in the UK to be able to host any sport at the moment. The idea could only be entertained if we fully believe we can have crowds back so the Lions could make more money out of it – because that's what it's going to come down to.
The case to postpone until 2022
Monye on delaying until the year before the World Cup and the impact on player welfare
You've played uninterrupted Premiership and Heineken Champions Cup, then you have a six or seven-week tour with the Lions. Then you have a short pre-season before you're back into the club season.
The tour I went on, I think there were seven or eight English guys on that tour. I think everyone bar two players had major surgery that following season.
BBC Sport rugby correspondent Chris Jones
The whole point of a Lions tour is the band of brothers going into hostile environments away from home. The Lions tour should be done in South Africa with travelling fans or not done at all.
The case to play in South Africa without fans
Monye, who toured South Africa with the Lions in 2009
We know the cash injection it gives to these Southern Hemisphere nations every 12 years. They need it. It's just not worth it. The fans, just like the Six Nations, are such an integral part of the experience.
It plays a massive factor in the success of a team. You have got 10s of thousands of fans who have probably already booked to go there. Behind closed doors, it doesn't interest me. I wouldn't even table it as an option."